GSN Leaders Recognized for Outstanding Efforts to Protect the Most Vulnerable
---
Pachaiyammal Arul, Empowered Women Award
Global Survivor Network Leadership Council members, Pachaiyammal and Victoria have been awarded accolades for their work in leadership and advocacy for survivors of violence around the world.

Pachaiyammal won two awards in March for her work fighting against bonded labour. She was referred to these awards by stakeholders who heard about her work and efforts to protect vulnerable people and rescue those in bonded labour. Pachaiyammal received the 'Aalumai Pengal Viruthu' or, 'Empowered Women Award.' She is one of only 21 people who have received this award, co-given by a local recreation club, CRR Clubs and Holidays, Lions Club, and educational trusts. Pachaiyammal then received the 'Streeshakthi Award,' given by Indian filmmaker Seenu Ramasamy as part of the channel's initiative to honour extraordinary women. Both award ceremonies were televised. Pachaiyammal is a global leader and founding member of the RBLA, a group of survivors of bonded labour, and her testimony and hard work have helped save many vulnerable people from violence.
Pachaiyammal spoke to her lifelong dreams of freedom and success at the ceremonies:
"When I was a victim of bonded labour, I never imagined that my future would look like this. Whenever I saw an airplane, I used to think, 'I wish I could fly one day' and it happened. In freedom, I have won several awards, but I wished to win one in a television broadcast. I won two! I cannot believe it. My family is so proud of me. They are moved to tears. I am overjoyed!"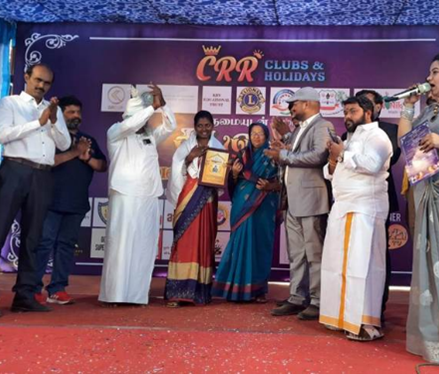 Victoria Nyanyjura, The Franco-German Peace and Reconciliation Prize
The Franco-German Peace and Reconciliation Prize, organized by Germany and France, was awarded Victoria Nyanjura. The annual celebration commemorates the 59th anniversary of the Treaty of Franco-German friendship and rewards Uganda activists for their contributions to peace. Victoria is the 6th awardee of the prize and was recognized for her volunteer work fighting against violence. After surviving the Lord's Resistance Army abductions, torture, and abuse at the age of 14, Victoria dedicated her life to pursuing justice, first serving at the Justice and Reconciliation Project, an NGO working in the Gulu region, then joining International Justice Mission. Victoria is the creator of Women in Action for Women, which supports rehabilitation of women in Northern Uganda.