GSN Leader Victoria Nyanyjura meets with the Office of Sen. Todd Young to Advocate for Centering of Survivor Voice
---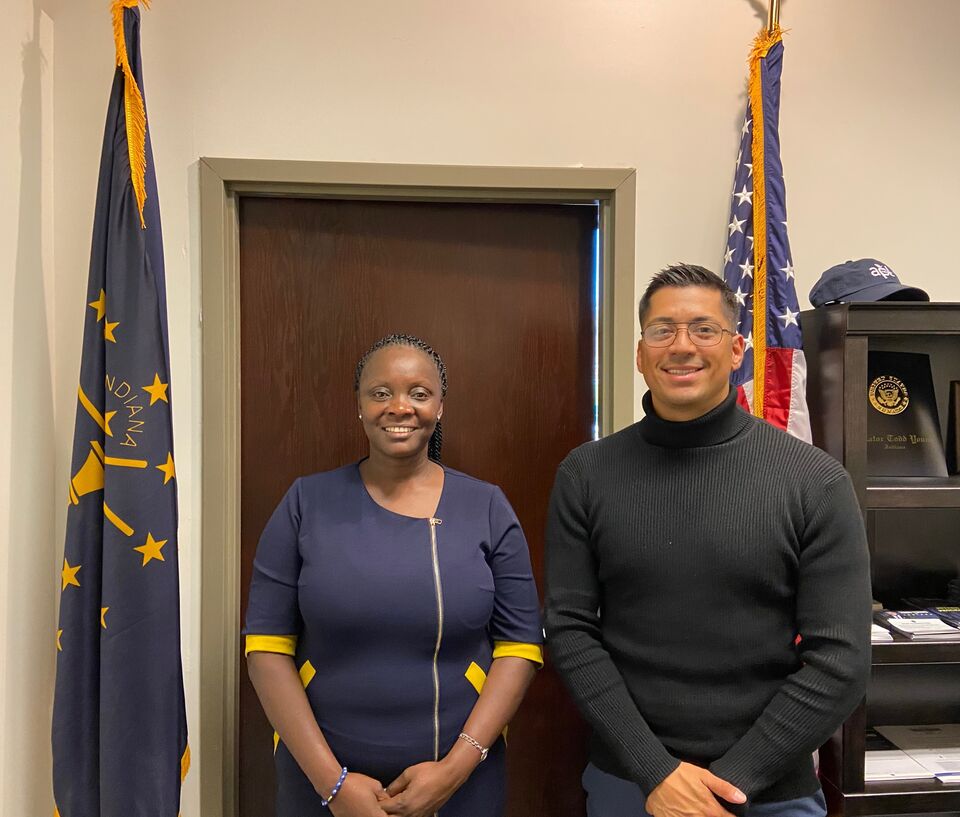 Photo: Victoria Nyanjura with Jose Diaz, Regional Director for U.S. Senator Todd Young
Victoria Nyanyjura, a founding member of the Global Survivor Network, met with the office of Senator Todd Young (R-IN) this week in Indiana.
During her time with Senator Young's office, she shared her own experience as a survivor of wartime violence and highlighted the importance of policy makers centering survivor expertise. Victoria is no stranger to advocating for policy reformation – after the Lord's Resistance Army conflict in Uganda, she mobilized to petition the Ugandan government to support female survivors of the war and their children born in captivity. Victoria thanked the Senator's staff for his leadership on the Central American Women & Children Protection Act a bill that directly impacts the home countries of many of Victoria's fellow GSN members in Guatemala, who are survivors of sexual violence. If enacted, this bill would designate U.S. foreign assistance over multiple years build the capacity of Central American governments to protect women and children from sexual assault, domestic violence, and other crimes and to deter violence by bringing perpetrators to justice.
Victoria also advocated for the U.S. government, alongside other international partners, to advance the cause of protecting children from sexual violence, including at the upcoming meetings of G7 government leaders in November. One of the key steps the Biden Administration and foreign governments can take to elevate protection is by centering survivor expertise. This aligns with one of the key messages the GSN calls for at every level: for policy makers to invite survivors into the decision-making spaces, and to view them as stakeholders in the solutions. As Victoria shares, "Survivors are so powerful. Each survivor has a unique but shared, lived experience. As survivors, we might have experienced the common theme of violence, but our stories and experiences are so unique. Commit to creating spaces for groups of survivors, and centering survivor voice."
A survivor of violence, Victoria escaped from the LRA abduction camps in Uganda, and is a powerful advocate for women's rights in Uganda, and for survivors around the world. Victoria is the founder of Women in Action for Women (WAW), an organization supporting businesses of female Ugandan survivors of conflict. She is a member of the Women's Advocacy Network, a forum where war-affected women come together to advocate for justice. Victoria is a graduate of the University of Notre Dame's Keough School of Global Affairs, where she earned a Masters of Global Affairs with a concentration in International Peace Studies.